< Back to News
£17m regeneration project underway in Scunthorpe with start of affordable housing development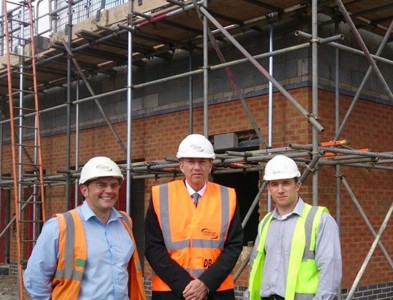 A £17m regeneration project in Scunthorpe is moving closer to completion almost a decade after initial plans were unveiled.
Hull-based construction firm Hobson & Porter is building five two and three bedroomed houses and 19 one and two bedroomed apartments on West Street and neighbouring Gurnell Street. Around 30 car parking spaces will also be created.
Dave Blades, business development director at Hobson & Porter, said: "The need for affordable housing is growing and we are delighted to be working with The Guinness Partnership to deliver this project.
"At Hobson & Porter we are always looking for projects to work on that will make a real difference to the local community in which they serve and I have no doubt this one will do just that. The original properties were beginning to create a bit of an eyesore in the town and we are looking forward to providing a fresh new look to the area.
"Works are progressing well on site and we hope to be in a position to hand over the keys for the apartments by the end of March 2015 and the houses a few months later."
The development is being funded by The Guinness Partnership, which provides a range of services including care and support, neighbourhood investment, housing management and rental or ownership opportunities to more than 60,000 homes nationwide.
Allan Ramsay, director of investment and regeneration in the North at The Guinness Partnership, said: "The Guinness Partnership is pleased with the progress made on site and looks forward to offering these high quality homes to local people for rent. We are also delighted to able to kick-start the regeneration of this part of the town centre and are particularly grateful for the support of the council and the Homes and Communities Agency for contributing £413,000 grant subsidy to help make the rents on these homes affordable."
Works on the remaining Advance Crosby Regeneration Project site are set to be completed over the coming years.