< Back to News
Hobson & Porter completes regeneration scheme for JCT600 in Hull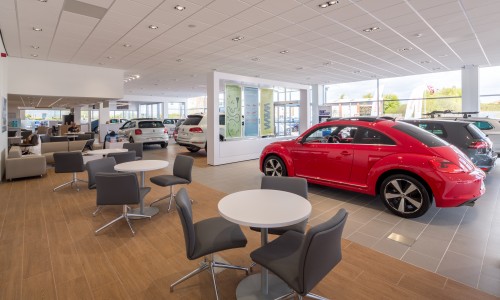 Volkswagen's new corporate specifications have created a nationwide scheme to revamp its showrooms. As part of this scheme, Hobson & Porter has completed a £630,000 redevelopment of the Volkswagen dealership on Saxon Way, Hull, on behalf of JCT600.
The 11-car showroom was expanded to 400 square metres, almost doubling its size. This involved demolition works, new drainage installation, internal steelwork to support feature walls, groundworks, reconfiguration of the carpark and internal cladding to certain areas of the build.
The refurbishment of the interior has created a desk-free showroom featuring "comfort zones", café areas with leather sofas, interactive screens, a business lounge and a customer quiet zone. It also includes JCT600's popular kids zone, complete with gaming station and iPad. To meet the high specification of the brief, a full range of buildings works was employed – plastering, tiling, mechanical and electrical works, plumbing (to install vanity units to the customer washrooms) and resurfacing of the car park.
Upon handover to the client, Paul McKenzie, Project Manager for Hobson & Porter, said: "The refurbishment as a whole has run on schedule and has been completed on time. The dealership continued to operate as usual throughout the duration of the works. Working in a live environment can be difficult for all parties but thanks to our experience in these kinds of works, we managed to keep disruption to a minimum whilst on site. We were also delighted that the client complimented us on the exceptionally high standard of our works which we achieved without impacting sales revenue and operations at the branch"
Mark Taylor, property director for JCT600, said: "It's great to see the £1m transformation of our Hull showroom completed on time and to such a high standard by Hobson & Porter.  Volkswagen's latest retail concept is designed to further enhance the customer experience and we're sure that our customers will enjoy visiting our fantastic new facility"
Completion and handover to JCT600 signals a new era for Volkswagen along with a new experience for customers visiting the Hull showroom.