< Back to News
BUILDING FOR A BRIGHT FUTURE AT BISHOP BURTON COLLEGE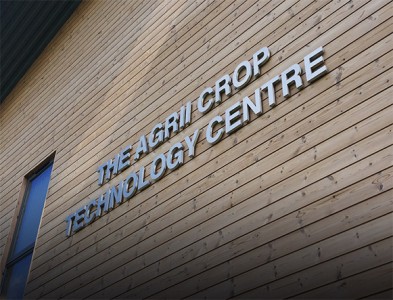 When construction students Thomas Rolley, Callum Tullock and Dominic Bonser enrolled at Bishop Burton College, they did not expect to have the chance to lay the foundations of future generations of students' education.
All three were invited by construction company Hobson & Porter to play a hand in the development of a new £3.5m training facility at the college, which is set to open in time for courses starting this term.
The state-of-the-art technology and skills centre has been built by the Hull-based firm and is set to open in time for courses starting this term.
Having started at the college at the age of 15, 19-year-old Callum, who is completing a Level 2 Diploma in Bricklaying, was delighted to put his skills to the test on such a major project.
He said: "Having the opportunity to work on the new technology and skills centre was a great experience. I love the practical elements to the course – the workshop is the same as industry situations – but this opportunity was something I wasn't expecting."
Thomas, who is currently studying for a Level 1 Diploma in Bricklaying, said returning to the centre to study would be a "strange" moment after helping to build it.
Thomas, of Orchard Park, Hull, said: "It will be a little strange to return to the building I help build and continue my studies this term. The building is an amazing facility and I am really proud to have played a part in its construction. Hopefully future students at Bishop Burton College will benefit from it like I already have.
"I was mainly involved with the installation of wall insulation and pointing around the building. I was on site for three or four days and had the chance to apply the skills I have learnt at Bishop Burton College as well as learn new ones through working with more experienced labourers.
"It was really interesting learning how they cope with every aspect of a build and how they stick to deadlines. All of the workers were really friendly and just told me to keep practicing and learning.
"I would really like to get onto an apprenticeship scheme but I know I will have to work hard to achieve that."
Before having the opportunity to work on the build, Thomas had his eyes firmly set on becoming a landscape gardener after completing courses in Gardening and Animal Care.
However, he is now hoping to land an apprenticeship in the construction industry and will enter his fourth and final year at the college when he returns on September 8.
Dave Blades, business development director at Hobson & Porter, said: "Providing opportunities for the next generation of construction workers to develop their skills is something we are extremely keen on.
"Working on a project the size of the technology and skills centre is a perfect way to get first-hand experience of how the industry works and has given the likes of Callum, Thomas and Dominic an opportunity to give something back to Bishop Burton College and leave a lasting legacy of their time studying there.
"Hopefully, they have gained some vital knowledge but, first and foremost, enjoyed working on a development of this type that they themselves will benefit from.
"We have an excellent relationship with the college and this development will provide a catalyst for it to improve its construction skills programme. As a Hull-based company we are always looking for opportunities to deliver projects that will enhance the region and we are extremely proud to be able to provide this state-of-the-art building for Bishop Burton College."
The centre has been part-funded by the Skills Funding Agency and has been designed to achieve an excellent environmental rating.
It contains the latest technology in precision farming, including global positioning systems, CAN bus electronics and refrigeration engineering.
The building accommodates both theoretical and practical work within a workshop environment and will allows large-scale machinery used in the agricultural industry to be brought into lessons.
Jeanette Dawson, Principal and Chief Executive at Bishop Burton College, said: "This year the College celebrates its 60th year and what better way to celebrate than with the unveiling of the next exciting chapter in the College's life – the new state-of-the-art Technology and Skills Centre.
"What makes it even more special is that our own students had their hand in creating these first-class facilities. The new building will enrich the learning experience for students and will offer a wealth of opportunities to learn new skills."