< Back to News
Classroom workshops for WiME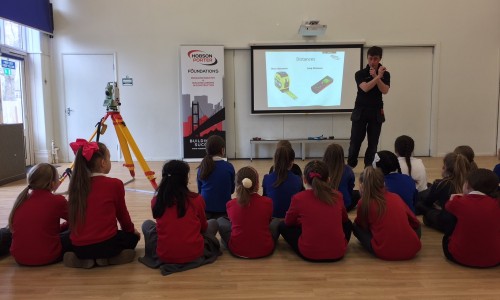 Hobson & Porter has completed a series of workshops at Bricknell Primary School aimed at educating and inspiring primary school girls to pursue careers in the manufacturing and engineering industries.
On 7th March, Mark Young (Site Engineer) and Pauline Steele (Employment and Skills Coordinator) demonstrated to Year 4 pupils how maths is used in construction and engineering. Pupils then had the opportunity to get to grips with measuring equipment, including metre sticks and a Leica Total Station.
Girls from Bricknell, Appleton, Francis Askew, Paisley and Victoria Dock primary schools, which all form the Constellation Trust, took part in the event. It was part of the Women into Manufacturing and Engineering (WiME) initiative led by Green Port Hull and supported by Siemens Gamesa, Airco, Jobcentre Plus and others to encourage women to choose this career path.
Mark and Pauline visit schools and colleges on a regular basis to show pupils (and teachers) how maths can be applied in a practical way within the construction industry. The workshops help to highlight the skills gap in the construction industry, and the event at Bricknell focused on the under-representation of women right across manufacturing and engineering.
Feedback after the event was overwhelmingly positive, with staff commenting that they would like it to become an annual event. Here are some of the comments from pupils:
'We've never done anything like this before.'
'I've loved working with my friends.'
'I wish we could do more things like this at our school.'