Construction of Women's Centre well underway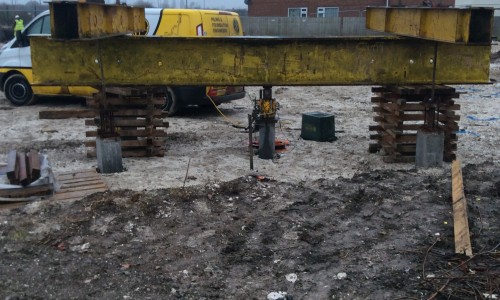 Work is well underway on the new Women's Centre on Preston Road in Hull. After a ground breaking ceremony on 28th November, which attracted considerable local interest including BBC Look North, the site team from Hobson & Porter has completed piling for the new structure and have begun ground works.
The "Big Purple Build" received a Reaching Communities grant of £996,910 from the Big Lottery Fund which, added to funds already raised by the women's charity, enabled the project to go ahead. Hull-headquartered construction company Hobson & Porter is on schedule to hand over the new Women's Centre later this year. The fundraising campaign will continue in the meantime, raising money to furnish the centre.
Dave Blades, Business Development for Hobson & Porter, said: "We are proud to be involved in this fantastic project which will allow even more women from Hull to benefit from a range of vital services within a custom-built, state-of-the-art centre.
"At Hobson & Porter we strive to make a difference to the communities in which we work. This has seen us working for a number of local charities as well as fostering the skills of young people through our apprenticeship programme. It's an approach which has resulted in some good scores as a Considerate Constructors Scheme Partner."
Copyright Hobson & Porter. All Rights Reserved 2014.