< Back to News
DHL facility launches at Ozone Business Park after fit-out by Hobson & Porter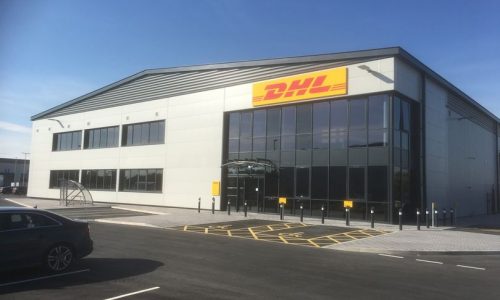 A warehouse and logistics facility constructed by Hobson & Porter has been officially launched at Ozone Business Park in Howden.
Construction of the 36,408 sq ft warehouse and office building was completed in September. With the fit-out process now finished, the facility is now operational.
The business park has been developed by East Yorkshire commercial developer, Horncastle Group PLC. It is said to be an important logistics hub in the region and home to some of the most active businesses in the sector.
DHL has joined big-name occupiers TNT, Warburtons, DPD, Timloc, Kersey Freight and Image Data in the park.
Ian Hodges, managing director of the Horncastle Group, said: "DHL are an excellent addition to the business park and confirm its credentials as a leading logistics park in the region.
"The parcel company took the last available plot in phase one of the development, meaning the first phase is now completely built out."
Hobson & Porter has worked on three of the developments at Ozone Business Park and were the main contractor on DHL's new facility.
Mike Beal, construction director at Hobson and Porter, added: "Ozone Business Park is a fantastic development and we're delighted to have played such a major part in bringing it forward.
"It combines a fantastic location with first class business premises while at the same time proving quality local employment which is a real boost for the area."
Hobson & Porter has completed several schemes at Ozone Business Park and maintains a strong relationship with the commercial developer Horncastle Group. In 2017 the firm constructed a warehouse, offices and car park for Timloc Building Supplies on Plot 6, as well as an operations centre for Kersey Freight, accommodating 25 vehicles and 75 trailers.