< Back to News
Hobson & Porter completes improvements to Pocklington Arts Centre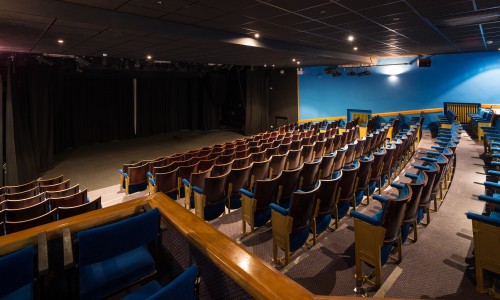 Hobson & Porter has handed over the refurbishment of Pocklington Arts Centre to the town's council.
We were extremely excited to have secured the contract to carry out works in the center of Pocklington, commencing in November last year.
Working on behalf of Pocklington Town Council, Arts Council England, Pocklington Arts Centre and the Friends of Pocklington Arts Centre, the scheme involved a variety of demolition and refurbishment works.  The initial programme was adjusted to ensure completion of the project within the client's timescales. This involved undertaking a number of different kinds of work in all areas of the building at the same time:
Refurbishment of the existing projector room and associated areas, with demolition of walls and floors to allow a new staircase to be installed. At the same time, a full refurbishment of the central heating and boilers was carried out.
Demolition of an external wall to the rear and a new link corridor, to allow access to the new bar areas.
Refurbishment of the first floor, transforming the space into the new bar area. This included replacing items such as windows and fire places. The entrance was also replaced, offices were refurbished and a new kitchen area was added to the ground floor.
During the project, we gave students from Bishop Burton College the opportunity to experience the live sites. As well as being able to see Hobson & Porter's construction staff at work, students and tutors were given information regarding the history of Pocklington Arts Centre, a tour of the site and an explanation of the works being undertaken.
Pete Shaw, Contract Manager on the project, said: "We were delighted to be able to showcase this project to students, demonstrating how Hobson & Porter undertakes different types of work alongside one another in a live building environment. The works, which had an overall value in excess of half a million pounds, were brought to a successful completion on time, with no complications or safety issues. Well done to everyone concerned."
The project was secured through the Yorbuild construction framework, which was developed to provide an efficient and collaborative approach to the procurement of construction projects.