< Back to News
Hobson and Porter flies the flag for women in construction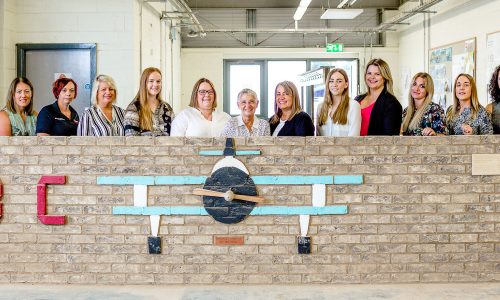 Our female employees recently visited Bishop Burton College to help publicise and show their support for women in the workplace.
They were photographed alongside a mural created by the college's construction students in tribute to Amy Johnson. The mural was built as part of a competition held by Bishop Burton College to highlight the subject of diversity and inclusion in the workplace.
Figures from the Office of National Statistics showed that in 2016 women made up less than 13% of the UK's construction workforce. Here at Hobson & Porter, we are pleased that we employ a diverse group, with more than 17.5% of our overall workforce being female.
Amy Johnson was a pioneering British aviator – the first woman to fly single-handedly from Britain to Australia, in 1930. She is a shining example of what can be achieved when someone puts their mind to something – regardless of their gender. And if a woman can achieve this in 1930, the possibilities for today's women in construction should be endless!
Hobson and Porter has a close relationship with Bishop Burton College, having completed several projects together over the years. We engaged our supply chain in order to facilitate this project, with Ibstock supplying the bricks.
On 10th October this year, Bishop Burton College's Equine Arena will again play host to Foundations Live, the region's largest co-located construction trade and careers event, which brings together local companies and schools and colleges to help address the skills gap in the construction industry. For more information on Foundations Live and to register for the event visit: https://www.hobsonporter.com/foundations/