< Back to News
Hobson & Porter joins Mates in Mind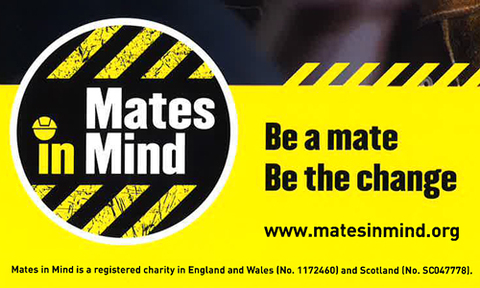 Here at Hobson & Porter we want to have the right tools in place to keep all our workers safe – both physically and mentally.
To ensure our commitment we are delighted to announce we've joined Mates in Mind, a charitable programme to improve and promote positive mental health in the workplace.
It provides a framework to raise awareness, address the stigma of poor mental health and improve positive mental wellbeing for UK construction.
According to a survey of 3,400 construction workers by Randstad, 34% of respondents have experienced a mental health condition in the past year. Furthermore, two-thirds said they did not feel there are sufficient outlets to discuss mental health conditions.
This is something Hobson & Porter is working hard to change.
Our Director Dave Blades said: "We recognise that the stigma often associated with poor mental health can often be perceived as difficult as the experience itself. Even though many of us will experience stress, depression or anxiety at some point in our lives, we may often be afraid to talk about it, or to seek help and support.
"As a supporter of Mates in Mind, we want to demonstrate our commitment to improving the health and wellbeing of our workforce and hammer home the message that it is ok to talk.
"Mates in Mind helps us to highlight the importance of breaking the silence and stigma that can surround mental wellbeing in society and in particular, in the construction industry. We are joining numerous other construction companies in supporting Mates in Mind, helping to improve the mental health and well-being of our people.
"We want our workers to arrive and leave work safely – both when it comes to their physical and mental health."
Mates in Mind is being delivered to the UK construction industry in support of the Health in Construction Leadership Group and in partnership with various industry and mental health charities.
As a supporter, we gain access to support and communication materials, as well as a range of awareness and training programmes.
It joins other initiatives we are running. We recently held several talks on all of our sites about the importance about talking about any problems. We also have dedicated staff trained up as mental health first aiders.
Here at Hobson & Porter there is always an open door and workplace support available for our people should they need it.