< Back to News
Hobson & Porter nearing completion of first EN:Able Build housing scheme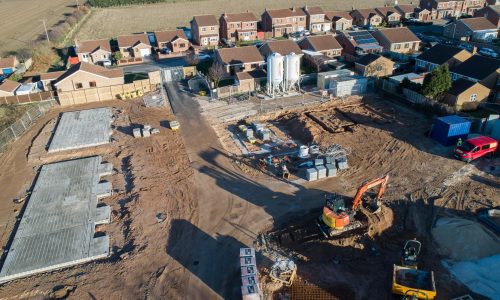 We are nearing the completion of our first work with EN:Able Build to improve the supply of affordable homes in the North of England.
24 affordable homes, a mix of two and three-bed, are being built at the Hawkins Close site in Harworth, near Doncaster.
The work, due for completion at the end of October, is being completed for Together Housing – one of the largest housing associations in the North of England.
The scheme was destined to be developed as homes for private sale until EN:Able Build agreed terms with the original developer for the scheme to be redesigned and developed as exclusively affordable homes. The project has also benefited future workers as apprenticeships have been created through the scheme.
Patrick Horton is major works contracts' manager at Hobson & Porter. He said: "It has been a difficult piece of land to build on, especially with the complexities of the drainage.
"But once complete, it will bring opportunities to families to live in social housing, which otherwise might not have existed.
"Working with Together Housing and EN:Able Build will also hopefully be the start of an excellent partnership to provide affordable homes in the region.
"At Hobson & Porter, we are passionate about social value and lasting legacy and developing skills for the future – this collaboration ticks all those boxes."