< Back to News
Hobson and Porter reaches major construction industry milestone with Beverley Leisure Complex works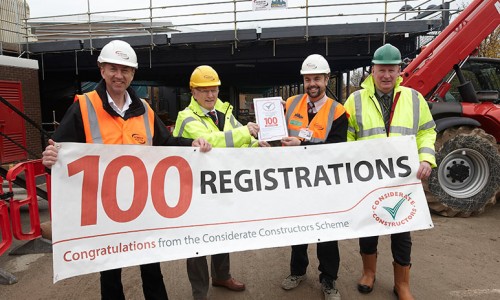 A HULL construction company has been praised for reaching a major industry milestone.
Hobson & Porter has completed 100 building projects under the Considerate Constructors Scheme (CCS), a barometer by which delivery standards are measured across the industry.
The company achieved this milestone after undertaking extension works at Beverley Leisure Complex's Tone Zone fitness suite – a project which forms part of East Riding Council's YORbuild delivery framework.
Mike Petter, chairman of the Considerate Constructors Scheme, said: "Many congratulations to Hobson & Porter Ltd for registering its 100th site with the Scheme – the Tone Zone Extension at the Beverley Leisure Centre.
"I would like to extend my grateful thanks for its continued track record as a considerate constructor and hope its valued efforts to improve the image of the industry will continue into the future."
The CSS is the national initiative set up by the construction industry to improve its image.
Construction sites and companies that register with the scheme are monitored against a Code of Considerate Practice, designed to encourage best practice beyond statutory requirements.
The scheme is concerned about any area of construction activity that may have a direct or indirect impact on the image of the industry as a whole. The main areas of concern fall into three categories: the general public, the workforce and the environment.
Dave Blades, Director at Hobson & Porter, said: "To reach the milestone of delivering 100 projects under the Considerate Constructors Scheme is a fantastic achievement and we are delighted the 100th build is on our doorstep.
"As a Hull-based business, we are very proud to have completed the majority of the 100 builds under this framework in this region and we look forward to completing many more in the future."
Work started on the extension in May after users complained the existing facility was too small. The new gym, which will have 90 stations, is expected to be completed early next year.
The new gym, together with a car park extension and other improvements, represents a £1.2m investment by the council in improving and developing the complex.