< Back to News
Hobson & Porter site featured on national BBC news bulletin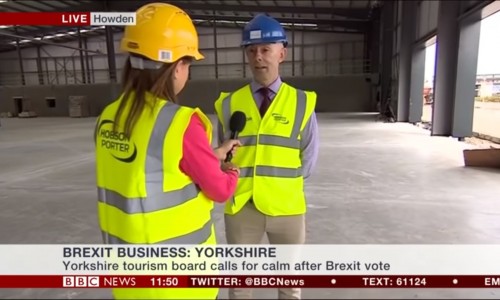 We were absolutely delighted to have the BBC film at one of our live construction sites in Yorkshire yesterday (Thursday 18th August)
The five minute interview was conducted live and broadcast nationwide on BBC News 24, as well as being featured on a number of regional BBC Look North bulletins throughout the day.
Sarah Corker, Business reporter from the BBC, visited our site at the Ozone Business Park in Howden where we are currently constructing a new office and distribution facility for The Horncastle Group.
The BBC team came to interview Andrew Horncastle, local business leader and owner of The Horncastle Group, about the impact the Brexit vote has had upon the leading property development group. Andrew explained that he sees a wealth of opportunity following Brexit;
"Well for us it is very much business as usual, we remain positive and optimistic about the outlook for the UK"
https://www.youtube.com/watch?v=HrpbP6p7jBw&feature=youtu.be
Our project at Ozone is currently nearing completion and will hand over to The Horncastle Group in the Autumn.
Copyright Hobson & Porter. All Rights Reserved 2014.
VAT Number: 317 3442 74