< Back to News
Hobson & Porter's South Cave housing project shortlisted for top award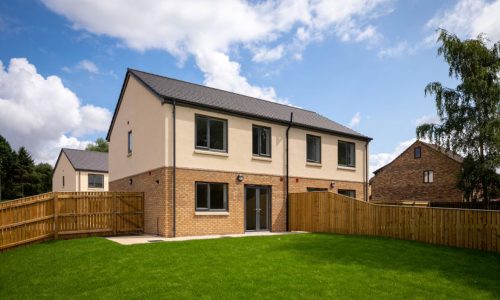 Our work to complete 10 affordable semi-detached homes in South Cave has been shortlisted at the prestigious Inside Housing Development Awards.
The development at West End Farm is up for the Best Shared Ownership Development (Rural of Suburban) Award.
The awards are an opportunity for landlords, developers and architects to enter their best developments and teams to be recognised in the UK.
Our work in South Cave consists of five pairs comprising four, two-bed houses and six, three-bed houses for East Riding Council, which was part-funded by Homes England.
Dave McCorrie was the site manager. He said: "We're delighted that our work to create 10 affordable semi-detached homes in South Cave has been recognised for a prestigious award.
"Our team worked really hard on the 60-week project. It required consultation with external parties on ecological issues, including trees and nesting birds.
"As part of the project, significant improvements had to be made to the access road to take it to adoptable standards.
"Overall though these are much-needed good quality, affordable homes and it is yet another example of the excellent partnership we have with East Riding Council."
The shortlist
West End Farm Close, South Cave – Hobson & Porter/ East Riding Council.
Orchid Acre Close, Stoke-sub- Hamdon – Stonewater
Poet's Place – Crown Simmons Housing
Woodfield Park – Martin Arnold
Old School House – WHG
The Croft, North Road, Crawley – Places for People
Egerton Rise – Trafford Housing Trust
Mayfair Gardens – Bury Council.
The winners will be announced on November 27th, at a national awards' ceremony at the Intercontinental O2 Hotel in London.
This is Hobson & Porter's second national award nomination in the residential and regeneration sector this year, following our shortlisting at the Constructing Excellence National Awards for our project with East Riding Council to transform the energy efficiency of 130 homes in Bridlington.
Visit www.ihda.co.uk for more details.