< Back to News
New build for the Hull IVF Unit is underway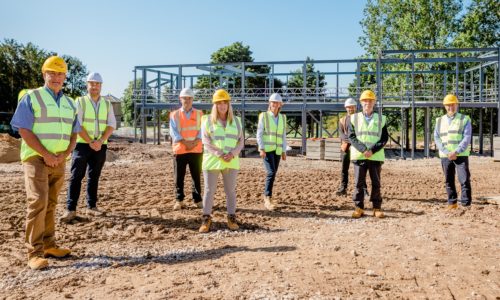 Patients undergoing fertility treatment in our region will soon be receiving their care in a brand new, state-of-the-art, clinic located near the Humber Bridge, within the Hesslewood Business Park. This will allow the Hull IVF Unit to enhance the already excellent patient experience they provide, in an unrivalled setting.
The Hull IVF Unit is one of the most successful fertility treatment centres in the country. The clinic provides over 400 treatment cycles for patients every year and continues to attract a growing number of patients seeking both NHS-funded and private treatment.
We are delighted to have been appointed as lead contractor to build the clinic.  Initial groundworks have recently commenced and construction is expected to take around 12 months.
The new facility will provide much needed extra clinical and laboratory space, enabling the clinic to meet the rising demand from both NHS and private patients across our region and beyond.
Denise Holland, the clinic's Consultant Nurse says "We have been working very hard over the past 2 years to develop the plans for the new IVF unit. We all work together as a very close-knit team and hope that the new facility will significantly improve patients' experience, at what can be a very emotional and stressful time in their lives."
Russ Pask, Contracts Manager for Hobson & Porter, said "We're pleased to be on site and commencing works at Hesslewood Business Park. The new Hull IVF Unit will be the latest in a long line of high-quality healthcare facilities we have delivered in the region over many years and we are proud to be creating a unit that will provide fertility treatment for hundreds of patients in the local area."
This new location means the clinic will be more readily accessed from Hull, North and East Yorkshire, and Lincolnshire and will provide dedicated, free parking adjacent to the clinic for exclusive use of patients and staff.
Not only will the new clinic be able to accommodate the additional workload but will also be able to integrate new technologies into treatments, as they become available.
The Hull IVF Unit has had a close working relationship with the local NHS Trust for more than 25 years, and this relationship will continue. NHS patients will continue to access seamless care during and after their referral into the clinic.
It is anticipated that the clinic will open its doors to patients at the new facility by summer 2021.