< Back to News
New distribution and packaging facilities completed at latest phase of JZ Flowers scheme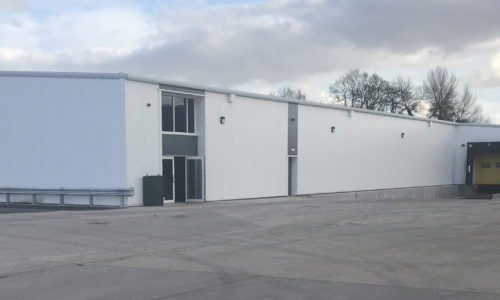 We're pleased to have completed a new phase of works for our valued long-term client JZ Flowers at Dianthus Business Park in Newport, East Yorkshire.
The project, which involved the construction of further distribution and packaging facilities, is the latest of multiple phases of works delivered for JZ Flowers, which is an international leader in flower distribution, with offices located across the world including Spalding Lincolnshire, Ireland, Holland, Turkey, and Miami.
Since 2009, we have completed a number of consecutive phases for JZ Flowers on a design and build basis, with total works valued at more than £12m. Our new-build development has created a single-site location acting as the firm's UK headquarters and national packing and distribution centre.
Almost 10% of all bouquets sold in UK supermarkets originates from this site based to the west of Hull. The site currently comprises more than 3,400m2 of office space and almost 38,000m2 of factory space.
JZ Flowers approached us with pre-determined specifications and standards for state-of-the-art office accommodation to maintain modern working practices while combining this requirement with a creating professional and inspiring place to work.
Previous works at JZ have included new-build office accommodation, large, steel portal frame buildings, distribution and packing lines, dock leveller pods, large hardstanding areas, parking, landscaping and drainage.
Richard Hunter, Managing Director of Hobson & Porter, said: "We're really pleased to be continuing our long-standing relationship with JZ Flowers, having now developed this latest phase of the company's impressive facility here in East Yorkshire. We've worked continuously with the client and architect to develop this scheme and set the standards for continued expansion throughout the various phases."
Richard added: "The development of a collaborative relationship with JZ flowers has been testament to our commitment to value and continuous improvement, consistently challenging our work and embracing technological developments and new construction products. This project is a great example of our capabilities in the manufacturing and distribution sector and one we're proud to be continuing to deliver."
Jelle Zwemstra, Founder of JZ Flowers, said: "We're delighted to see the completion of this latest phase of works at our facility at Dianthus Business Park.
"We selected to work with Hobson & Porter because they share our commitment to innovation, quality and value for money. We're also delighted to be working with a local business and supporting local labour."