< Back to News
New lease of life for leisure centre benches donated by Hobson & Porter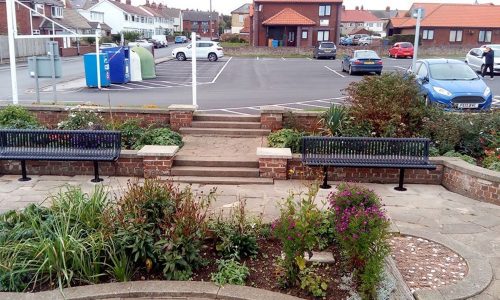 We've recycled several benches rescued during our work transforming East Riding Leisure Hornsea to complete a community garden in the town, supporting the great work of the Hornsea Urban Gardeners (HUG).
We've donated and fitted the benches in the Morrow Avenue Sunken Garden, described by HUG as completing the garden and making it possible for residents to sit and enjoy it.
Kevin Harrison is Hobson & Porter's site manager in Hornsea. He said: "I'm really pleased we've been able to help the Hornsea Urban Gardeners on what is a wonderful community facility.
"I hope those visiting the garden will enjoy the benches. The HUG group is an excellent group, with volunteers working incredibly hard to transform the garden, which will become a real asset to the town. We hope the benches we've donated will be enjoyed by many visiting the garden."
Work on the East Riding Leisure Hornsea started in March, with it due to be complete by Easter in 2020.
Work is progressing well on our £7.5 million project which will bring a complete refurbishment and extension, including an extended gym on the first floor overlooking the promenade.
It's one of three major projects in Hornsea being undertaken by Hobson & Porter in the town. These include work on a new multi-million-pound Mere View Care Home in Hornsea and an upgrade of the South Promenade Boat Compound.
Kevin said: "The Hornsea Urban Gardeners do great work in enhancing friendships by inspiring local people to take back their communities through gardening. Their work at the newly restored Morrow Avenue Sunken Garden is a wonderful example of determination and dedication to transform a space for the benefits of the community.
"We're pleased that the benches from the leisure centre can be put to good use and become a real asset in the garden, giving visitors somewhere to sit and enjoy the space.
"We really enjoy working in Hornsea – our work at East Riding Leisure Hornsea is one of three major projects in the town. We're working on a new multi-million-pound Mere View Care Home in Hornsea and an upgrade of the South Promenade Boat Compound.
"As well as the construction work, we've also teamed up with school children who created us some amazing artwork for our hoardings around the leisure centre – which was named a winner at this year's Ivor Goodsite Hoarding Competition.
Dave Blades, director at Hobson & Porter, said: "We'll be working on more exciting projects in the town soon, so keep your eyes peeled for more details to follow.
"The Hornsea community has been extremely proactive in coming forward to work with us on these projects and it has been a pleasure for Hobson & Porter to work with the residents, we have been made to feel very welcome by the community."
"It's a wonderful town to work in and a relationship we hope will continue long into the future."