< Back to News
New state-of-the-art care homes to transform lives in Hessle and Hornsea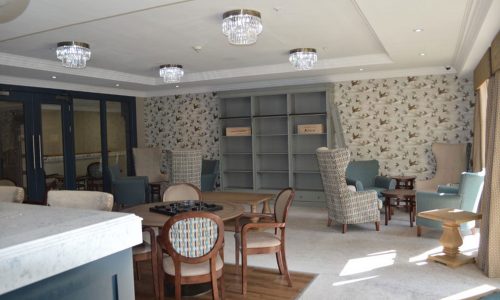 Hobson & Porter has completed a multi-million-pound care home in Hessle, which features a cinema, bar, sensory gardens and a beauty salon.
The award-winning construction firm completed the 18-month project for East Yorkshire-based care provider Yorkare Homes.
Tranby Park is a 64-bed care home located off Heads Lane, providing residential and dementia care. It features several apartments for couples and the home has large gardens, an artificial bowls green and three terraces.
Mark Smee is a Director at Hobson & Porter. He said: "This is a state-of-the-art care home with a bar, cinema, and hair salon. The build has been successful – it's three storeys and we've had to put a new road in.
"There's a dementia ward, three grass balconies and it is a nice place to live."
It's the third care home Hobson & Porter has built for the award-winning East Yorkshire care provider – including Lindsey Hall in Cleethorpes and Beverley Parklands in Beverley.
Work is also underway on a new multi-million-pound Mere View Care Home in Hornsea.
Mark said: "We have a successful relationship with Yorkare and have a proven track record in building the kind of facilities they are after.
"The work in Hornsea overlapped with the building in Hessle. Both are similar facilities, but slightly different in shape, with the Hessle facility a 'h' shape, while the one in Hornsea is more of an 'l' shape."
Once complete in summer 2020, Mere View Care Home will provide residential and dementia care with views over Hornsea Mere and the local countryside, but with close links to the town centre and seafront.
It will include sensory gardens, a pub, a full beauty salon, a bowling green and allotments.