< Back to News
Purple House gains Secured by Design Gold safety award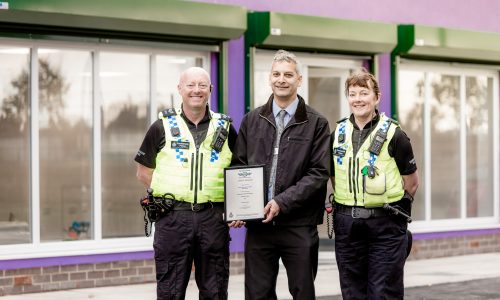 Our construction of the new Preston Road Women's Centre- the first purpose-built women's centre in the UK for 20 years – has gained the highest award given by Secured by Design (SBD), the national police crime prevention initiative, for incorporating crime prevention techniques into the layout, landscaping and physical security of the development.
Preston Road Women's Centre – known locally as Purple House – offers women and girls from across Hull access to domestic violence and abuse services, sexual health services, outreach support, nursery provision, accredited courses, a housing service, legal services, a volunteer programme and a young women's participation project.
Established in 2000, it has directly helped more than 4000 women, and engaged with many thousands more from its current building on Preston Road. As its services have grown, the organisation outgrew its space.
During the scheme, our project team worked closely with an SBD trained Designing Out Crime Officer worked and the architects, LNS Partnership, from the planning stages through to construction to incorporate SBD crime prevention techniques and security in the build.
The measures included the built environment, are lighting, fencing, CCTV, alarms and the installation of SBD accredited windows and doors.
The new building, which is more environmentally friendly and will allow more services to be offered to local women and children, has:
A bigger nursery, with room for 18 children
Four one to one rooms where support can be offered to women in private
More room for volunteers to look after women visiting the centre
Clinical space for women to see medical practitioners when needed
Two training rooms
A large meeting space for groups, including their Girlz Only group
A laundrette so local women don't have to travel to do their laundry
A pram park
A bigger charity shop
More office space for growing number of staff
Ann Clarkson, Centre Coordinator for Preston Road Women's Centre, said: "We are delighted to have this new facility which will help us extend the services we have provided to women and children in the area for over 18 years.
"Safety is such an essential part of our services and it was important for us to know that the new building is fit for purpose and built for visitors to feel secure and protected in their surroundings. The additional SBD security features are very reassuring for both staff and visitors alike and we're really grateful for the support of this scheme."
Marc Dias, Designing Out Crime Officer for Humberside Police, said: "This is an excellent new addition to Preston Road that will provide an important service for years to come. The incorporation of SBD standards helps ensure that the development provides a safe, secure and sustainable setting in to the future".
Dave Blades, Business Development Director from Hobson & Porter Construction, said: "The security of any public-use building and the safety of its users are always important considerations for us as a contractor. It was a valuable experience for our project team at Preston Road Women's Centre to work alongside the Designing Out Crime Officer and learn more about SBD crime prevention techniques, and we will look to utilise this knowledge to help provide further protection on future schemes."