The Big Purple Build begins on Preston Road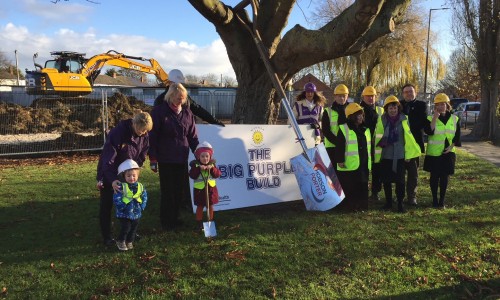 A ground breaking ceremony took place on 28th November 2017 to mark the beginning of the 'Big Purple Build' – a project to create a new Preston Road Women's Centre in Hull. Hobson & Porter is the main contractor for, what is believed to be, the first purpose-built women's centre in the UK for 20 years. The team will be on site for the next nine months working on the building, which will have a low environmental impact to minimise ongoing running costs.
Preston Road Women's Centre received a Reaching Communities grant of £996,910 from the Big Lottery Fund, and the charity has been running a fundraising campaign to raise the rest of the money towards the cost of their new, purpose-built centre. So far £151,000 has been raised during the campaign, which will continue during building work to raise the additional amount needed to furnish the centre.
"As our services have grown, we've outgrown our current space'" explains Ann Clarkson, Centre Coordinator.  "We're based in two pre-fab semis that have been knocked together, and although it's served us well over the last 17 years, it's no longer fit for purpose.  The new building will increase the nursery space and double the learning space, as well as housing our legal service, Affordable Justice, and all our other services."
Copyright Hobson & Porter. All Rights Reserved 2014.