The Octagon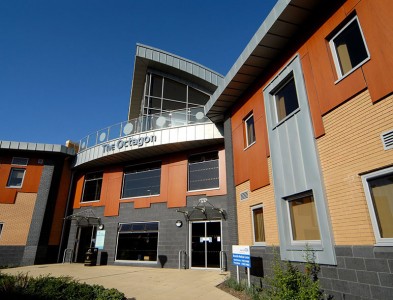 When Goodwin Development Trust invested £5 million in building The Octagon, a state-of-the-art community facility in Hull, they turned to Hobson & Porter to manage the project.
The centre accommodates West Hull Primary Care Trust, a childcare facility and Hull City Council Customer Services Centre. The centre also provides conference facilities and meeting rooms.
Since the building opened in September 2005 the conference rooms have become a viable business, bringing much-needed investment to the heart of one of the most deprived communities in the city.
Goodwin Development Trust was set up as a charitable organisation in 1994 by a group of residents on the Thornton Estate in Hull who saw it as a way to improve their quality of life and the services available on their estate.
The trust's services now range from fitness centres to childcare support, and from job advice to community wardens. Goodwin's board of trustees comprises residents of the Thornton Estate who have been appointed by fellow residents to represent their interests.
Over the past 12 years, the trust has successfully improved quality of life on the Thornton Estate, and some of its projects now operate right across the city. Today the Goodwin Development Trust employs around 300 staff working across 38 sites and has a turnover of £9.2 million a year.
Copyright Hobson & Porter. All Rights Reserved 2014.
VAT Number: 317 3442 74