< Back to News
Yorkshire and North Lincolnshire-based construction firm makes new appointments to support division's impressive growth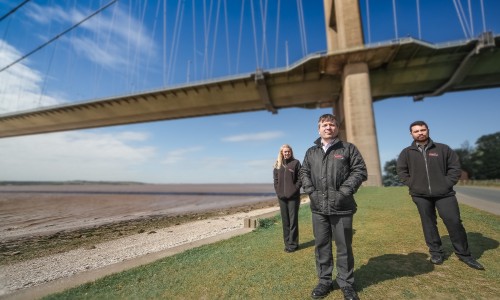 Yorkshire and North Lincolnshire-based construction firm Hobson & Porter has continued the impressive growth of its Minor Works division with two key appointments in 2017.
A new estimator and quantity surveyor have been appointed to support the division's rapidly increasing portfolio of contracts across the region. Adam O'Gara and Katy Slunker both joined Hobson and Porter in early 2017, and will be supporting teams on various projects.
The firm's Minor Works division currently provides services to several high-profile organisations in the Yorkshire and North Lincolnshire regions, including Humberside Fire and Rescue Service, Hull and East Yorkshire Hospitals NHS Trust, and East Riding of Yorkshire Council.
The longstanding division has seen a considerable rise over the last few years, with business wins, ongoing portfolios and repeat business contributing to its success. 2016 saw the completion of a £500,000 refurbishment of The Pocklington Arts Centre and the £630,000 JCT600 Volkswagen showroom refurbishment in Hull, both of which received excellent feedback from clients.
The division has a diverse range of contracts taking place in 2017, with works already underway including refurbishments projects at Bransholme Fire Station and Hull Royal Infirmary, new toilets and a reception area at the Guildhall and multiple properties for East Riding of Yorkshire Council.
Jon Craven, Minor Works Director at Hobson & Porter, said: "This is a very exciting time to be part of the business as we seek to invest in our people and develop our growing portfolio of clients.
"Since formation, the Minor Works Division has been involved in many small and medium value contracts in a diverse range of sectors, from health and education to retail and commercial. Much of our work has been repeat business from clients who have been delighted with our approach to working and delivery.
"The appointments of Adam and Katy reinforce our vision of becoming the leading provider of minor works in the region for businesses and organisations. They both have the skills and expertise needed to drive our work and build on our current portfolio."
On joining Hobson & Porter's Minor Works Division, Katy Slunker said: "I'm very happy to have joined Hobson & Porter and feel this is an excellent opportunity to develop my skills and further my career.
"The business is experiencing an exciting period of growth in both Yorkshire and my home county of Lincolnshire, and it is great to be part of this. I hope I can use my skills and experience to benefit the division and help the team achieve our goals."